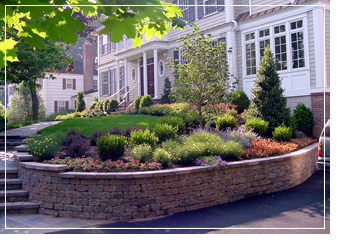 Installing landscaping around your home adds beauty and value. Adding plant materials, boulders and pavers help create an environment that can be enjoyed for years to come.
The first phase is to meet with our landscape designers to customize a plan that is pleasing as well as affordable. Landscaping can be done in phases such as beginning with the front of your home and adding the sides and rear at later dates. Plant selection will be discussed upon your initial visit such as your likes and dislikes, color preferences, shading and screening to name a few. Once our designers have a good understanding for your needs; a blueprint plan will be drawn and presented to you. This is the time to interact with the designer, ask questions, add or delete until you are comfortable with your design.
The second phase is the actual installation. The time frame to complete your job will be discussed giving you an idea as to how long an area will be in disarray. Our crews will install exactly to your design specifications so you know you are getting what was agreed upon. We guarantee our crews will be professional and courteous to you and your surroundings.
The third phase will be educating you on the proper watering instructions for your newly planted materials. This is essential to promote root growth and overall plant health. An initial watering is done at completion of the installation however it is up to you to properly maintain them.
Scalora Landscape Services also offers landscape maintenance programs to suit your needs. If you want a worry-free environment, this is the way to achieve it.